Voice Speaker
VOICE SPEAKER AV-100E
Power : 12VDC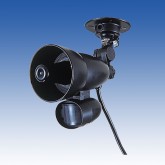 Data Download
Feature
Feature
● AV-100E is designed to give an audio message after receiving alarm signal from a PIR etc.
● Max. recording time is 12 secs. The message is easily recorded by just speaking into the built-in microphone.
● The message can be tailored to suit all applications.
● The message can be overwritten.
● External relay input is Normally Open(Form A).
● Rainproof for outdoor installation.
Specification
Description
Voice Speaker
Model
AV-100E
Power supply
10 to 14VDC (non-polarity)
Current consumption
20mA or less(Stand by)
500mA or less (Max. )
Alarm input
Dry contact relay : N.O. ( contact capacity:10mA )
Sound synthesis method
PCM method
Record method
Built-in condenser microphone
Record / Playback time
Max 12 secs.
Sound output
Operation :
One-shot playback (12 sec.) by alarm input signal
(No retrigger during playback)
Sound volume :
Max.100dB/2W(1m ahead) at right recording level
Adjustable from 0 to Max by volume switch
Indication LED
Recording level is indicated :
"Blinking" : good "ON" : too low "OFF": tooloud
Playback : ON(during playback )
Sound output
Max. 2W, 100dB or more : subject to good recording level
Sound volume control
Variable from zero to max.
Indication LED
(when recording) Recording level is indicated as follows :
good : flashing, too low : Lights on, too loud : off

(when playback)
Light on during playback time (8 sec.)
Ambient temperature
ー20℃ to + 50℃ without condensation and freeze
Mounting position
Indoor / outdoor (rainproof)
Weight
Approx.1000g
Appearance
Body: Resin(Black )