Flame Sensor
FLAME SENSOR WITH SPEAKER FS-6000E
HIGH SENSITIVITY FOR OUTDOOR USE
FLAMES DO NOT WAIT !
A WARNING MESSAGE BEFORE IT GROWS INTO "FIRE".
DETECTS SMALL FLAMES IMMEDIATELY ! AN ULTRAVIOLET RAY DETECTION
FLAME SENSOR THAT OUTPUTS WARNING MESSAGES IN DIFFERENT LANGUAGES.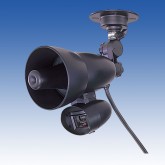 Data Download
Feature
GENERAL DESCRIPTION
Flame sensor FS-6000 immediately detects ultraviolet rays contained in flames and outputs a warning message and activates an external output.
The sensor and speaker combined body can be installed either indoors or outdoors.
4 SELECTABLE LANGUAGES
The warning message can be easily selected by a dip switch.
There are 4 selectable languages.
FS-6000C : English, Chinese, Korean, Turkish
FS-6000E : English, Spanish, French, Italian
Message volume is adjustable, maximum 100dB.
VARIABLE ADJUSTMENT FUNCTIONS
The sensitivity can be set up by using the 4 leveled detection timer and sensitivity volume (40%-100%) together. It can be set up according to the environment of the installation. Area masking enables elimination of unnecessary detection areas.
CONVENIENT EXTERNAL OUTPUT
FS-6000 has not only the warning message output but also has an external output. Multiple units can easily be controlled remotely by using a control panel.
OUTDOOR USABLE SENSOR AND SPEAKER COMBINED BODY
The black sensor and speaker combined body blends well with most surroundings. The rain resistant structure enables outdoor installation.
Also the wide angle area adjustment allows installation in various locations.
Specification
Product name
FLAME SENSOR WITH SPEAKER
MODEL NO.
FS-6000E
Detection system
Ultraviolet rays detection
(Detected wave length <185 to 260nm>)
DETECTION AREA
Distance : 33ft. (10m) [2.76"(7cm) flame]
Angle : Vertical : approx. 75°(upward : 15°/ downward : 60°)
Horizontal : approx. 100°
Adjustment range : Vertical : downward 90°(horizontal - vertical) Horizontal : 180゜
Sensitivity adjustment
Sensitivity : L(40%) -H(100%) [selectable by volume]
Detection timer : 1sec., 6sec., 15sec., 30sec. [selectable by switch]
Power supply
DC12 ±V2V (non-polarity)
Power consumption
Stand by : 35mA or less
Operate : 500mA or less
WARNING MESSAGE OUTPUT
Operation : Output warning message when detecting flames.(One-shot operation)
Message selection : 4 options [selectable by switch]
*English
[Inflammable materials in this area. No naked flames.]
*Spanish
[Materiales inflamables en este area. Sin llamas.]
*French
[Produits inflammables pas de flammes nues.]
*Italian
[Attenzione zona a rischio incendi, non fumare e non usare fiamme libere]
Volume : Mute - max. approx. 100dB (3.3ft. <1m> from the front of speaker.)
EXTERNAL OUTPUT
Dry contact relay Form C (alarm : open/close)
Contact capacity : 30V (AC/DC) 0.5A or less (resistance load)
Output operation : Off delay approx. 2 secs.
LED
Red LED.
Operation : Blink during warning message output.
Wiring
Reed wiring
Power supply (thin) : 2 / dry contact (thin) : 3
INSTALLATION METHOD
Screw on flange
Ambient temp. range
-4F to +122F(-20C to +50C)
Installation
Indoor, Outdoor
Weight
approx. 35 oz (1,000g)
Appearance
Sensor part : PC resin (black)
Adjustment, attachment part : PPO resin (black)
Accessories
* Installation flange : 1
* Tapping screw : 1 type φ4 × 30(SUS) 4
* Area mask seal : 1
Optional
* Black vise F3