Indoor (Ceiling)
TWIN MIRROR PASSIVE INFRARED SENSOR PA-6614E

Equipped with advanced twin mirror technology to ensure excellent
detection performance with pet tolerance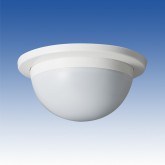 Data Download
Feature
TWIN MIRROR OPTICAL SYSTEM
A high density detection zone consisting of two
optical units significantly reduces false alarms
from small animals regardless of installation location.
NEXT GENERATION PROCESSING
・New logic mapping provides improved discrimination performance
between humans and small animals compared to conventional AND
detection and simple pulse count processing.

・Maintains catch performance throughout the summer months even when
background temperature is high.
WIDER APPLICATION OPTIONS
A geared mirror array allows detection patterns to be optimised across a
wide range of installation environments; mount up to 6m in high density
mode, or detect up to 14m in standard operation modes.
STABLE DETECTION
Dynamic temperature compensation maintains optimal detection
sensitivity year-round.
ECO FRIENDLY
• Wide operation voltage range and low current consumption
Designed to operate on 7 to 30VDC with 8mA (max.) current consumption
for improved PSU and wiring efficiency.

• Enhanced surge resistance
Reduces damage caused by induced lightning by up to 3x compared to
conventional models.
Specification
Model
PA-6614E
Detection system
Passive infrared (Twin mirror)
Coverage
Wide angle 14m Max.
Sensitive zone
38 pairs
Supply voltage
7 to 30V DC (non-polarity)
Current consumption
8mA Max.
Alarm signal
Dry contact (Semi-Conductor)
(N.C. / N.O. selectable)
Reset : Approx. 2 sec., 24V (AC/DC) 0.25A
(protective resistor 3.3Ω)
Alarm memory
3 minutes flashing, 47 minutes lighting and
automatically reset. (ON/OFF selectable)
Alarm LED
Red : Flashing at warming up
Lighting at alarm (LED can be disabled)
Memory LED
Yellow : Flashing at memory activated
    Lighting at memory indication
Tamper
N.C. 30V(AC/DC) 0.25A
Adjustment
Vertically : 23°
Horizontally : 25°(on mounting hole of base)
Sensitivity changeover
60% / 80% / 100% / 120% changeover
Other functions
Self-diagnosis function
Temperature compensation
Ambient temperature range
-15℃ to +55℃ (+5°F to +131°F) without condensation
Mounting position
Indoor ceiling
(wall mount with optional attachment BCW-401)
Wiring connection
Terminals on separate base unit
Weight
120g (4.23oz)
Appearance
Body /Cover : White resin
Accessory
Tapping screw : 2 pcs.
Sensor locking screw : 1 pce.
The specifications are subject to change without notice.