Outdoor
DUAL ZONE OUTDOOR PIR MX-12FAM

Dual zone detection system reduces false alarms for reliable
outdoor protection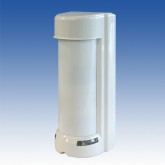 Data Download
Feature
DUAL ZONE DETECTION SYSTEM
Horizontal and downward zones require simultaneous detection preventing
nuisance alarms from small animals and passing vehicles.
180 DEGREE WIDE ANGLE COVERAGE
Up to 180° of complete coverage, with independent 2m - 12m adjustable protection distance for left and right sides for maximum installation versatility.
DUAL ALARM SIGNAL OUTPUTS
Choose between:
• individual alarm outputs per 90 degree left and right side
 or
• a combined 180 degree output + external output for triggering CCTV or
• ancillary devices.
ANTI-MASKING
Protected by sophisticated Anti-Masking technology with near-lens awareness,designed to initiate an alarm if the device is compromised.
BACK TAMPER
Equipped with both front and back tampers to detect interference or attempted theft of the sensor any time of the day or night.
IMPROVED AREA MASKS
Durable area masks stored within the device allow the coverage pattern to be customised to specific site requirements.
PULSE COUNT & SENSITIVITY ADJUSTMENT
The pulse count can be changed between 1 & 3, and the sensitivity adjusted between 60 & 120% to maintain operational stability in difficult conditions.
Specification
Model
MX-12FAM
Detection system
Passive infrared
Detection area
Horizontal detection
Angle : 180°, Detection distance : 12m(40')
Horizontal zone : 14 zones Downward zone : 14 zones
Area adjustment
Detection distance : 2 to 12m(10' to 40') [10 ranges]
(by adjusting vertical angle of downward curtain)
Possible left and right individual adjustment
Supply voltage
9 to 28V DC (non-polarity)
Current consumption
30mA Max.
Alarm output (1)
【ALARM RIGHT+LEFT/ALARM RIGHT】
Dry contact relay output N.O./N.C. selectable
・Contact capacity : 30V (AC/DC) 0.2A Max. (Resistive load)
・Contact operation : Detection time (+2sec.)
Alarm output (2)
【ALARM LEFT】
Dry contact relay output N.O./N.C. selectable
・Contact capacity : 30V (AC/DC) 0.2A Max. (Resistive load)
・Contact operation : Detection time (+2sec.)

【EXTERNAL OUTPUT】
Dry contact relay output N.O.
・Contact capacity : 30V (AC/DC) 0.2A Max. (Resistive load)
・Contact operation : Detection time (+30sec. latch time)
Trouble output
Dry contact relay output N.C.
· Contact capacity : 30V (AC/DC) 0.2A Max.(Resistive load)
(Masking detection / Low supply voltage / Self diagonosys error)
Tamper output
Dry contact relay output N.C.
· Contact capacity : 30V (AC/DC) 0.1A Max.(Resistive load)
(Cover tamper / Back tamper (when enabled)
Operation LED
Red LED
・Warm-up (Blinking)
・Alarm detection (Lights approx.2sec only for Walk test)
・Low supply voltage (Blinking slowly)
・Masking detection (Blinking rapidly)
・Self diagonosis error (Lights continuously)
Pulse count
1 / 3 times (selectable with DIP switch)
Sensitivity adjustment
60% / 80% / 100% / 120%
(selectable with DIP switch,Possible left and right set individually)
Functions
Anti-masking, Back tamper, Trouble alarm, Low voltage monitoring
Connection
Terminals
Ambient temperature
-25°C to + 60°C (-13°F to + 140°F)
Mounting position
Indoor / Outdoor
Ingress protection
IP55 (Wall mount)
Weight
350g (12.4oz)
Appearance
Body : resin (white) / Lens : resin (white)
Optional
Pole attachment : BP-32