Flame Sensor
FLAME PASSIVE SENSOR FP-2500E

FLAME DETECTION AT 33ft.(10m) AND INTRUSION DETECTION WIDE ANGLE
33ft.(10m), WITH COMPACT DESIGN !
IDEAL COMBINATION SENSOR TO MINIMIZE NUISANCE ALARM AND REALIZE
SAFER INDOOR PROTECTION OF YOUR PREMISE.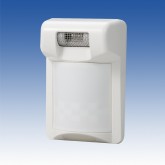 Data Download
Feature
TWO OUTPUT MODES SELECTABLE
Two output modes are selectable; "AND" detection mode, and "Individual" detection mode.
● "AND" detection mode initiates flame and passive alarm signal output at the same time when both flame and passive infrared sensor detect during the selected time.
●"Individual" detection mode initiates flame or passive alarm signal output when either the flame sensor or passive sensor detects.
FORCED OUTPUT OPERATION
The flame sensor initiates flame alarm signal after continued detection for a certain period of time, even in "AND" detection mode, without any detection of passive sensor detection.
ALARM MEMORY
It can be easily identified by Alarm memory indication (flame and passive sensor individually) which sensor is activated. Memory LED blinks for 3 min. and lights on for 47 min. after alarm activation.
PET IMMUNITY (Passive Sensor)
Multiple Zone Technology ensures 40 lbs. (20kg) pet immunity with outstandingly high performance and reliability.
AREA ADJUSTMENT (Passive Sensor)
The coverage pattern can be adjusted to different mounting heights by moving the inner unit.
OPERATION SET-UP BY DETECTION TIMER (Flame Sensor)
The alarm will be activated only when the sensor detects a flame (ultraviolet rays) for longer time than set time. Two detection times are selectable by DIP switch on the sensor. < 1 sec., 3 sec. >
Specification
Product name
FLAME PASSIVE SENSOR
Model No.
FP-2500E
【Flame sensor part】
Detection system
Ultraviolet rays (Detection wave length 185 to 260nm)
Detection distance
33' (10m) with 2.75'' (7cm) lighter flame in front
Detection area angle
Approx. 120° conically
Detection setting
Detection timer (1sec, 3sec)
Detection sensitivity (H [100%], L[50%])
*Detection sensitivity can be set at only
"Individual" mode.
*H[100%] is fixed at "AND" mode.
Alarm LED (RED)
Part of flame sensor
• Lighting at alarm
(Detection time + off delay. Approx. 2 sec.)
• Blinking (3 min) and Lighting (47 min) at memory
【Passive sensor part】
Detection system
Passive infrared
Detection area
Wide Angle 33' (10m) Max. 29 pairs
Detection area
angle adjustment
3 steps
Alarm LED (RED)
Part of passive sensor
• Lighting at alarm (One shot, Approx. 2 sec.)
• Blinking (3 min) and Lighting (47 min) at memory
• Lighting at trouble.
Power supply
10V to 30VDC (non-polarity)
Current consumption
20mA Max.
Alarm output
Individual mode
Flame sensor output (From ALARM① terminal)
• Dry contact relay (Semi-Conductor) (N.O./N.C. selectable)
• Contact operation : Detection time + off delay. (Approx. 2 sec.)
• Contact capacity : 30V (AC/DC) 0.25A Max. (resistive load)
Passive sensor output (From ALARM② terminal)
• Dry contact relay (Semi-Conductor) (N.O./N.C. selectable)
• Contact operation : One shot (Approx. 2 sec.)
• Contact capacity : 30V (AC/DC) 0.25A Max. (resistive load)

AND mode
Forced flame signal output (From ALARM① terminal)
When the flame sensor detects a flame twice during
the selected AND timer.
(Detection time + off delay. Approx. 2 sec.)
Or
When the flame sensor continues to detect a flame for
flame duration time 15 or 30 sec.
(Detection time after 15/30 sec + off delay. Approx. 2 sec.)
・Dry contact relay (Semi-Conductor) (N.O./N.C. selectable)
・Contact capacity : 30V (AC/DC) 0.25A Max. (resistive load)
AND detection signal output (From ALARM② terminal)
When both passive and flame sensors detect during
the selected AND timer. (Detection time, Min. 2 sec.)
・Dry contact relay (Semi-Conductor) (N.O./N.C. selectable)
・Contact capacity : 30V (AC/DC) 0.25A Max. (resistive load)
Tamper output
Dry contact relay N.C.
(Activated when the front cover is detached)
Contact capacity : 30V (AC/DC) 0.1A Max. (resistive load)
Alarm memory
Reset after blinking (3 min) and lighting (47 min)
(Operate flame and passive LED individually)
Ambient temperature range
5°F to +131°F (-15°C to +55°C) without condensation
Mounting position
Indoor wall surface (Ceiling with option attachment "BCW-401")
Connections
Self-up terminal
Weight
Approx. 120g
Appearance
Resin