Reflective
PHOTOELECTRIC BEAM SENSOR PR-30BE
Outdoor 1.6ft (30m)
The newly developed PR-30BE, adopting Time of Flight technology,
can protect 30m (outdoor) with one side wiring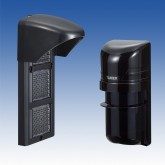 Data Download
Feature
EASY INSTALLATION
As wiring is needed only on the sensor unit (one side), you can use it in places where it is difficult to wire on both sides. One-side wiring reduces time and cost of installation sighificantly.
MORE RELIABLE PROTECTION (Time of Flight)
Adopting ToF technology makes the detection more secure regardless of environment and material/color of the object, by avoiding lost alarms caused by wrap-around of the reflected beam near the center of the detection area.
FOR INDOOR AND OUTDOOR APPLICATIONS
This sensor can be used both indoor and outdoor. Maximum detection distance can be 40m for indoor applications (hood of reflector is detachable).
EASY BEAM ALIGNMENT
Beam alignment can be adjusted on the sensor unit side only by utilizing dual ring viewfinder, monitor output and new sound check function. (Intermittent and continuous tone)
FLEXIBLE PROTECTION AREA SETTING
The lens is adjustable horizontally (+/-90 degrees) and vertically (+/-5 degrees) by thumbscrew without screw driver, allowing the unit to work in all directions.
RESPONSE TIME ADJUSTMENT
Response time can be adjusted by DIP switch with 4 steps (0.05 / 0.1 / 0.25/0.5 sec.) to reduce false alarms depending on the location.
MINIMUM OPERATIONAL DISTANCE
Even narrow zones can be protected with minimum operational detection distance of 0.5m, widening the area of applications.
EASY OPERATION CHECK
Alarm LED (red), attenuation LED, and sound check are equipped for quick and easy operation check. (After closing the cover, the sensor will enter walk test mode for a period of 5 minutes. During this time, a sounder will activate upon detection. The walk test mode will automatically terminate after 5 minutes.)
OPTION ACCESSORIES
L fitting (BL-11) is available as option to mount the reflector for protection along the wall.
Specification
Detection system
Near infrared beam interruption system (reflective)
Protection distance
Outdoor 1.7 to 100' (0.5 to 30m)
Indoor 1.7 to 135' (0.5to 40m)
Supply voltage
10.5V to 30V DC (Non-polarity)
(Class 2 powered device)
Current consumption
200mA or less
160 mA or less (12V DC)
80 mA or less (24V DC)
Alarm output
Dry contact relay Dry contact relay N.O. /N.C.
Contact capacity : 30V (AC/DC) 0.25A or less
Relay operation : Interruption time (minimum 2 secs)
Environmental output
Dry contact relay Dry contact relay N.O. /N.C.
Contact capacity : 30V (AC/DC) 0.25A or less
Tamper output
Dry contact relay 1b (N/C)
Action : Activated when cover is detached.
Contact capacity : 30V (AC/DC) 0.25A or less
Response time
0.05 / 0.1 / 0.25 / 0.5sec.
Alarm LED
Red LED
ON : when an alarm is initiated
Sensitivity attenuation
/Environment LED
Red LED
When front cover detached (when alignment) :
Beam is attenuated.
When front cover attached : Weather condition
gets worse. (Synchronize with Env.output)
Functions
・Monitor output   ・Response time adjustment
Ambient temperature
-25℃ to + 60℃ (-13°F to +140°F)
Mounting position
Outdoor , Indoor
Wiring
Terminals
Weight
Sensor : 13oz (370g)
Reflector : 6.7oz (190g)
Appearance
Sensor : Resin (wine red)
Reflector : Resin (clear / black)
* Specifications and design are subject to change without prior notice.