Flame Sensor
FLAME SENSOR FS-2000E
Ultraviolet rays detection system
FLAME DETECTION AT 33ft. (10m) AHEAD !
PROTECTION AREA ADJUSTMENT ENABLES EASY INSTALLATION ,
AND MANY FUNCTIONS FOR PROFESSIONALS ARE AVAILABLE !

Flame sensor FS-2000E quickly detects ultraviolet rays contained in flames and activates a built-in alarm sound in addition to an external output.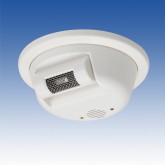 Data Download
Feature
OPERATION SET-UP BY DETECTION TIMER
The alarm will be activated only when the sensor detects a flame (ultraviolet rays) in accordance with the detection timer.
4 detection times are selectable by a slide switch on the sensor. <0.2 sec., 1 sec., 6 sec., 30 sec.,>
OTHER FUNCTIONS
*Internal alarm sound, which is greater than 80dB at 3.3ft. (1m) in front of the sensor, and it can be turned off.
*Tamper output.
FORM C EXTERNAL OUTPUT
With a Form C output, FS-2000E can be connected to a Fire / Security control panel. Also the output signal can be used to initiate a warning device, such as CCTV surveillance as a part of advanced security system.
ALARM MEMORY
It can be easily identified by Alarm memory indication which sensor is activated. Memory LED on the sensor blinks for 3 min. and lights on for 47 min. after alarm activation.
PROTECTION AREA ADJUSTMENT
Compact design (φ120mm) enables FS-2000E to be installed at any location. Easy separation of the sensor body from the base simplifies installation and maintenance.
In addition, wide selections of protection area setting are available with protection area adjustment.
Specification
Product name
Flame sensor
Model
FS-2000E
Detection area
Distance:
33ft.(10m)
[2.75" (7cm) lighter flame, in front ]
Angle:
Approx. 120°conically
Adjustment range:
Horizontal 25° … by base unit
Vertical 30° (4 steps) … by sensor head
Sensitivity adjustment
Detection timer 4 steps (0.2 sec., 1 sec., 6 sec and 30 sec.)
Power supply
10V to 30VDC (non-polarity)
Power consumption
Stand by : 25mA or less
Alarm : 75mA or less (alarm sound ON)
40mA or less (alarm sound OFF)
Alarm output
Dry contact relay Form C (alarm : open / close)
Contact action : off-delay (approx. 2 sec.)
Contact capacity : 30V(AC/DC)0.3A, protective esistance 3.3 ohms
Alarm memory
Auto-reset operation (on/off setting available)
Memory LED blinks for 3 min. then lights on for 47 mi n
LED
Alarm LED (red) : light on for off-delay 10 sec.
Memory LED (yellow) : light on when memory indicated,
blink when power turned on
Alarm sound
(buzeer)
Alarm : Sounds intermittently every 0.2 sec. during off-delay 10 sec.
Volume : 80dB or more at 3.3ft (1m) ahead (silent setting is available)
Temper output
Dry contact relay Form B (N.C.)
Action : open when cover is detached
Capacity : 30V (AC/DC) 0.1A
Wiring
Terminals
Ambient temp. range
+14F to +140F (-10C to +60C) without condensation and freeze
Installation
Indoor (ceiling or wall mount)
Weight
Approx. 5.3oz (150g)
Appearance
ABS resin (white)
Accessories
Tapping screw Φ4×25.2pcs.
Sensor locking screw Φ3×6.1pce.
Optional
Celling mount attachment [BCW-401]
*Specifications and design are subject to change without prior notice.