Photoelectric Beam Sensor
AUTO DOOR SENSOR DA-303S

HIGH-DENSITY DETECTION PATTERN (32 ZONES/4 ROWS)
INSTALLATION HEIGHT UP TO 3m
SLIM DESIGN WITH 28.5mm THICK BODY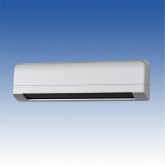 Data Download
Feature
HIGH DENSITY DETECTION PATTERN
*High-density detection pattern with 4 rows in depth and 8 areas per line (32 zones in total) enables DA-303S to surely detect passengers.
*Each line can be turned off with dip switch, so DA-303S can meet nmnany detection area at narrow and wide space.
*Body angle can be selected by 0°or 5°.
*Detection width can be also adjusted by dip switch.
PRESENCE TIMER SELECTABLE
Selectable for ∞ ・ 60sec. ・ 10sec. ・ 2sec.
With ∞ setting, 1st and 2nd rows are set to ∞ and 3rd and 4th rows to 2sec.
SLIM DESIGN WITH 28.5mm THICK BODY
In case using with electric shutter, slim body reduces the possibility that the shutter scrubs DA-303S.
ENVIRONMENTAL LEVEL ADJUSTMENT
Stable detection even in rain, snow, floor surface change or in the flying insects situation is kept by "snow mode".
Frequency setting
Four separate selectable frequencies enables 4 sensors to be installed in the small space without crosstalk.
2 WAY POWER SYSTEM
DA-303S is powered by AC100V or AC/DC12-24V.
Specification
Model
ACTIVE INFRARED MOTION & PRESENCE SENSOR
Model No.
DA-303S
Power supply
DC12 ~ AC110V ± 10%
Power consumption
AC100V 2.4VA or less
DC12V 80mA or les
Operation LED
(1)Power-on/Standby : Green
(2)Detection : Red
(3)Hunting door : Orange
(4)Reset wait : Orange rapidly blinking
Contact output
Dry contact relay N.O. DC50V 0.1A (Resistive load)
Ambient temperature
-20℃~ +60℃
Detection system
Active near infrared
Max. installation height
3.0m
Sensitivity adjustment
Available by volume switch
Depth area setting
(1)Body angle change : Selectable 0°/5°
(2)Dip switch setting : 1/2/3/4 Rows adjustment
Width setting
Selectable Normal/Narrow
Frequency
4 channels selectable
Environmental level
Selectable Normal/Level 1/Level 2/Level 3 by Dip switch
Output holding time
Approx. 0.5sec.
Presence timer
Selectable 2 sec/10 sec/60 sec/∞ by Dip switch
Automatic reset
Approx. 6 sec. after Dip switch setting during pwoer-on
Installation site
Indoor, semi-outdoor : Transom
Weight
180g