Glass Sensor
GLASS BREAK SENSOR GS-2000E

Glass break sensor GS-2000E is an ultrasonic sensor designed to detect the sound of breaking glass such as plate glass windows, doors, showcases etc. Its slim and inconspicuous body allows the unit to be used in various places.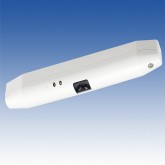 Data Download
Feature
EASY OPERATION CHECK
The alarm LED and the environmental LED are available for easy operational and environmental check.
ALARM MEMORY FUNCTION
When the unit has been activated, the alarm LED (Red) will flash for 3 minutes, and remain lit for 47 minutes afterward. This makes identification of triggered devices easier when multiple units are used in the same location.
EASY INSTALLATION
The protection area is vertically 7m max. and horizontally 8m max.
(Variable range : vertically 30°in front direction)
OTHER FEATURES
*Sensitivity adjustment
*Slim and compact design (height 45mm x depth 32mm)
*Glass checker EG-2000 available (Optional)
*Screw-less terminal block
Specification
Product name
GLASS BREAK SENSOR
Model number
GS-2000E
Detection method
Ultrasonic Detection
Operation area
Distance direction : 26'(8 m)
Extension direction : 23'(7 m)
Area adjustment scope
Vertical direction : 30° (by 5° pitch)
Horizontal direction : ±4° (by using base mounting hole)
Power supply voltage
DC 9 V to 28 V (no polarity)
Consumption current
25mA or less
Alarm output
Contact method : Dry solid-state contact (N.O. /N.C. selectable)
Contact operation : One-shot (approximately 2 sec)
Contact rating : DC 30 V (AC 24 V)/0.25 A (resistive load)
          (built-in contact protection resistance 3.3 Ω)
Tamper output
Contact method : Dry contact (N.C.)
Contact operation : Continuous output when the sensor unit is detached
             (until the sensor unit is mounted)
Contact rating : DC 30 V/0.1 A (resistive load)
Alarm indicator
Red LED
In check mode : Blinks (approx. every 2 sec)
When the alarm is set off : Lights up (for approx. 2 sec)
In memory operation : Auto resets after blinking for 3 min, and being lit up for 47 min
When the alarm for abnormalities is set off : Lights up (continuously)
(Available to set only the alarm and memory display to ON/OFF using the mode selector)
Environmental indicator
Orange LED
When environmental error occurs : Lights up (in check mode)
When checking the sensitivity : Lights up (in check mode)
Auxiliary functions
Check mode function, Noise reduction function, Self-diagnosis function, Tamper function
Ambient operating temperature
14°F to 122°F (–10°C to +50°C) (No condensation)
Installation place
Indoor : Ceiling and wall surfaces
Wiring connection
Terminals
Weight
Approx. 4.2oz (120g)
Appearance
Resin