Combination Sensor
COMBINATION SENSOR COM-50XTL
OUTDOOR 165ft (50m)
Combination of Microwave and Photoelectric beam reduces drastically
the false alarm compared with the usual sensors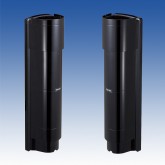 Data Download
Feature
DOUBLE MODULATION
Double modulated beams are designed to distinguish the external lights. It increases the reliability in the outdoor security system.
STRONG UNDER HARSH ENVIRONMENT
The microwave sensor adopted in the upper part reduces malfunctions caused by environmental degradation, such as fog, snow and heavy rain with AND protection.
HEIGHT ADJUSTMENT
Mounting height is adjustable after mounting the sensor to minimize the influence of reflected microwave from the ground.
DUAL ALARM OUTPUT
Environmental output is switchable to alarm output for CCTV activation switch.
INSECT/WATER PREVENT
Anti-insect bushing and special gasket enable IP65 rated tight housing.
ANTI-BIRD SPIKE
Keeps birds and small animals away from the sensor, signiticantly reducing false alarms.
DRIP-PROOF HOUSIN
Prevents rain and snow from streaming down the front side of housing, reducing false alarm.
DUAL RING SIGHT
Enables better and clear view for easy beam alignment.
TARGET COLOR
The vivid color of the internal structure can be recognized easily at distance during the beam alignment procedure. The color differs between a transmitter and a receiver for easy installation and checking.
WIRELESS ALIGNMENT CHECKER
Enables easy and accurate beam alignment. (Sold separately)
LIGHTNING PROTECTION
The surge protection is improved in order to reduce the damage caused by induced lightning.
(improved by 10 times as much as COM-IN-50HF)
* This does not guarantee a failure by lightning strike.
IMPROVED POLE INSTALLATION
With new Pole mounting attachment, mounting sensors to the pole back to back gets easier.
Specification
Model
COM-50XTL
Detection system
Microwave : Microwave interruption system
Photoelectric beam : Near infrared pulsed beam interruption system
(TR-RE 2 beam simultaneous interruption)
Microwave frequency
24.11GHz
Infrared beam
Double modulation pulsed beam by LED
Protection distance
Outdoor 165 ft (50m) or less
Max. arrival distance
1650 ft (500m)
Response time
Microwave : 0.04 / 0.3 sec. (selectable with DIP switch)
Photoelectric beam : 0.05 to 0.7 sec. (changeable with volume switch)
Power supply
12 to 30V DC (Non Polarity)
Current consumption
Transmitter : 31mA or less (when armed & Max.)
Receiver : 24mA or less (when armed) 33mA or less (Max.)
Alarm output
Dry contact relay output form C
Contact action : Interruption time (Min.2sec.)
Contact capacity : 30V (AC/DC) 0.25A (resistive load) Protective resistor
Environmental/alarm output
Dry contact relay output form C *Environment/Alarm selectable
Contact action : (Env.) Activated when weather condition gets worse
        (Alarm) Synchronized with alarm output
Contact capacity : 30V (AC/DC) 0.25A (resistive load) Protective resistor
Tamper output
Dry contact relay output form b(N.C.)
Action : Activated when cover is detached
Contact capacity : 30V (AC/DC) 0.1A (resistive load) Protective resistor
Alarm LED
Red LED (Receiver) ON : when an alarm is initiated
Attenuation LED
Red LED (Receiver) ON : When beam is attenuated
Functions
Modulation frequency selectable, Tone indicator, 
Transmitting power indicator, Alarm memory indication,
Programmed AGC, Auto-gain lock, Monitor jack,
Tamper, Response time adjustment, MW/Beam changeover,
Reception sensitivity display, Environmental module,
Wireless checker connectable
Area adjustment range
Horizontal : ±90° Vertical : ±10°
Ambient temperature range
-13 to +140°F (-25 to +60°C)
Mounting position
Indoor, Outdoor (IP65)
Wiring
Terminals
Weight
Transmitter : 56oz (1,600g)  Receiver : 57.8oz (1,650g)
Appearance
Resin (wine red)