Flame Sensor
FLAME SENSOR FS-1000E
Ultraviolet rays detection syste,
FLAME DETECTION AT 33ft.(10m)AHEAD!
SUPER HIGH SENSITIVITY IN A SMART DESIGN.

Flame sensor FS-1000E quickly detects ultraviolet rays contained in flames and activates a built-in alarm sound plus an open collector output.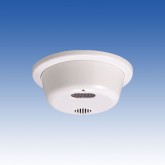 Data Download
Feature
Power supply
The FS-1000E can be powerd from either type-3 alkaline battery ×2 pcs, or an external power source 9~30VDC depending on the application.
Optional power source can be from a long life lithium battery.
External output to a security system
Equipped with a form A (N/O) open collector output, FS-1000E can be connected to a security control panel. Alternatively the output signal
can be used to initiate a warning device e. g. bell, siren etc., when used with an external DC power supply.
Operation set-up by detection timer
The alarm will be activated only when the sensor detects a flame (ultraviolet rays) in accordance with the detection timer. The 4 following detection times are selectable by a slide switch located on the sensor body.
1sec,6sec,15sec,30sec
Other functions
・ The internal alarm sounder output is greater than 80dB at 3.3ft. (1m)
in front of the sensor. The internal sounder can be disconnected by cutting a jumper wire if required when using an external DC power supply.
・ Compact design enables FS-1000E to be installed at any location.
Easy separation of the sensor unit from the base simplifies installation and maintenance.
・ Low battery
When using a battery power source, low battery condition is annunciated by an internal buzzer and external LED.
・ Power up
When power is turned on, an alarm sound is activated. If no alarm sound is activated, check the power source.
Specification
Model
FS-1000E
Detection system
Ultraviolet rays detection
(Detected wave length 180~260nm)
Detection distance
33ft. (10m) (2.76"(7cm) lighter flame, in front)
Detection angle
Approx. 120degrees (conically)
Sensitivity adjustment
Detection sensitivity (H[100%],L[50%])
Detection timer (1sec.,6sec.,15sec.,30sec.,)
Power supply
・ Type-3 alkaline battery (LR6)×2 (3V) …accessory
・ Exclusive lithium battery (CR17450E-R-2-CM2)×1 (3V) …optional
・ External power supply 9VDC to 30VDC with polarity
Power consumption
Stand by: 50μA Max. when battery power supply
: 5mA Max. when external power supply
Alarm: 50mA Max. when buzzer sounds
LED
Indication: Red LED
LED Alarm: Flashing every 0.2sec. during off-delay approx. 10sec.
Low battery: Light on 0.1sec. every approx. 5sec.
Buzzer
Alarm: Sounds intermittently every 0.2sec. during off-delay 10sec.
Low battery: Sound 0.1sec. intermittently every approx, 5sec.
Volume: 80dB or more 3.3ft. (1m) ahead
(Silent setting is available by cutting internal jumper line)
Exterminal output
NPN open collector output
(Useful as an output with voltage when external power is used)
30V (DC) 50mA, off-delay 10sec. continuous output
Wiring
Terminals
Ambient temp. range
+14F to +140F (-10C to +60C) without condensation
Battery performance may decrease under +32F (0C) or beyond +104F (+40C)
Installation
Indoor (Ceiling or wall mount)
Weight
Approx. 7oz (200g) including battery (accessory) 1.8oz (50g)
External dimensions
φ4.72" (120mm)×H1.57" (40mm)
Appearance
ABS resin (white)
Accessories
・ Exclusive battery case of Type-3×2pcs, ×1
・ Type-3 alkaline battery LR6×2
・ Sensor locking screw φ3×6, ×1
・ Tapping screw φ4×25, ×2