Battery Operated
BATTERY OPERATED PHOTOELECTRIC BEAM SENSOR TXF-125E

The battery operated beam can be installed anywhere without
wiring and dig work. Save time. Save cost.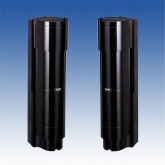 Data Download
Feature
LONG BATTERY LIFE
Approx. 5 years of battery life is possible with 4 pcs of recommended battery.
*(Each 2 pcs for transmitter and receiver)
Possibility of longer battery life with extra batteries. (Max. additional 4 pcs)
*when use LS 33600 (3.6V 17Ah) manufactured by SAFT.
BATTERY SHARING FUNCTION
This function is integrated in the sensor to enable sharing battery with universal wireless transmitter.
Low battery output voltage is adjustable with volume switch.
DETECTION DISTANCE SELECTABLE
4 detection distance are selectable with a single unit.
[330'(100m) /245'(75m) /165'(50m) /82'(25m)]
LIGHTNING PROTECTION
This unit is insusceptible to induced lightning because of its battery operated system.
WIDE BEAM
With wider pitch between upper and lower beams, false alarms initiated by birds and falling leaves are drastically reduced.
IP65 HIGHEST RATING PROTECTION
In addition to wireless configuration, water tight bushings and seals maintain integrity of the device from water, insects and dust.
DUAL RING SIGHT
Enables better and clearer view for easy beam alignment.
BI DIRECTIONAL WIRELESS ALIGNMENT CHECKER
(ER-02)
Even one person can accomplish system alignment easily to dramatically save the labor cost. (sold separately)
Specification
Model
BATTERY OPERATED PHOTOELECTRIC BEAM SENSOR
Model number
TXF-125E
Detection system
Near infrared pulsed beam interruption system
(TR-RE 4 beam simultaneous interruption)
Infrared beam
Single modulation pulsed beam by LED (near infrared beam light-emitting diode)
Protection distance
Outdoor 330'(100 m) or less
Protection distance setting
82'(25m), 165'(50m), 247'(75m), 330'(100m) (4 distances selectable)
Distance margin
(maximum arrival distance)
10 times 3300'(1000m)
Response time
0. 05sec., 0.1sec., 0.25sec., 0.5sec. (4-level changeover)
Modulated beam
frequency selection
4 channels
Power supply voltage
3.6VDC (recommended battery: SAFT lithium thionyl chloride battery LS33600)
Current sonsumption
750μA
●Transmitter : Approx.430μA (during protection)
●Receiver : Approx.320μA (during protection)
(nomal temperature,3.6VDC)
Battery life
●Transmitter
 Approx. 5 years
 (at normal temperature, with 2 recommended batteries, excluding a wireless transmitter)
●Receiver
 Approx. 5 years
 (detects 100 times a day, at normal temperature, with 2 recommended batteries, excluding a wireless transmitter)
ALARM OUTPUT
(Receiver only)
Dry contact relay output form C
30VDC 0.1A (resistive load)
ENVIRONMENT OUTPUT
(Receiver only)
Dry contact relay output form C
30VDC 0.1A (resistive load)
LOW BATTERY OUTPUT
(Transmitter and Receiver)
Dry contact relay (N.C)
30VDC 0.1A (resistive load)
TAMPER OUTPUT
(Transmitter and Receiver)
Dry contact relay (N.C)
30VDC 0.05A (resistive load)
POWER OUTPUT
(Transmitter and Receiver)
3.0VDC 50mA MAX
Beam adjustment
Horizontal: ±90°, Vertical: ± 20°
Alarm LED
Red LED (Receiver) ON : when an alarm is initiated
Attenuation LED
Red LED (Receiver) ON : when beam is attenuated
Ambient temperature
–13°F to+140°F (–25°C to+60°C) (No freezing or condensation)
(The battery function may decrease at 0°C or less, or +40°C or more)
Functions
Sound check, Monitor jack
Upper/lower beam switch
Low battery indication
Wireless alignment checker connection
Battery saving, Repeat output, Battery sharing
IP rating
IP 65
Mounting position
Outdoor, Indoor
Weight
Transmitter : 52.5oz (1500g) (excluding batteries)
Receiver : 54.3oz (1550g) (excluding batteries)
Appearance
Cover : PC resin Wine red
Base : ASA resin Black