Low Current
LOW CURRENT PHOTOELECTRIC BEAM SENSOR PXB-100SW

This is extremely low current consumption Quad beam sensor
No wiring will be required with solar panel unit (BA-6SLA)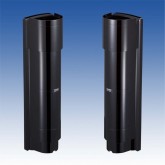 Data Download
Feature
DOUBLE MODULATION
Double modulated beams are designed to distinguish the external lights. It increases the reliability in the outdoor security system.
WIDE BEAM
The pitch between upper and lower beam is widened more than old models. False alarm by birds and falling leaves reduces drastically.
QUAD HIGH POWER BEAM
The beam power is 100 times of the minimum requirement.
The beam distance is 10 times of the described specification.
This high power beam also realizes the reliability against the harsh conditions like fog, snow, heavy rain.
LOW CURRENT CONSUMPTION
50% less than remaining models. The battery size may reduce, wiring diameter may lessen, installation cost may decrease.
ECOLOGY
RoHS adapted – Environment friendly. Free from Lead, Mercury, Cadmium, Hexavalent chromium, brominated biphenyl, Polybrominated diphenyl ether.
INSECT/WATER PREVENT
Anti-insect bushing and special gasket enable IP65 rated tight housing.
Polybrominated biphenyl, Polybrominated diphenyl ether.
ANTI-BIRD SPIKE
Keeps birds and small animals away from the sensor, helping to reduce false alarms.
DRIP-PROOF HOUSING
Prevents rain and snow from streaming down the front side of housing, helping to avoid false alarm.
DUAL RING SIGHT
Enables better and clear view for easy beam alignment.
TARGET COLOR
The vivid color of the internal structure can be recognized easily from the far end in the beam alignment procedure.
The color differs between a transmitter and a receiver which helps easy installation and checking.
INCREASED ANGLE ADJUSTMENT ALLOWANCE
Vertically ±20°compared with previous version.
It may adapt to the slope installation flexibly.
SOLAR BATTERY CORRESPONDENCE
It can be used with solar battery unit in a site without a power supply.
It becomes possible to install without wiring work.
WIRELESS ALIGNMENT CHECKER
Enables easy and accurate beam alignment. (Sold separately)
LIGHTNING PROTECTION
Minimize the damage by the induced surge through wirings.
It may stand 10000V under normal mode, 15000V under common mode.
Specification
Model
PXB-100SW
Detection system
Near infrared pulsed beam interruption system
(TR-RE 4 beam simultaneous interruption)
Infrared beam
Double modulation pulsed beam by LED
Protection distance
Outdoor 330' (100 m) or less
Max. arrival distance
3300' (1000 m)
Response time
0.05 sec. to 0.7 sec. (Variable at pot)
Power supply
5 to 12VDC (polarity)
Current consumption
5 to 8VDC
※1 (During armed)
※2 (During beam alignment)
Transmitter Max : 3.7mA ※1
      Max : 8.2mA ※2
Receiver Max : 2.3mA ※1
    Max : 10.0mA ※2
Current consumption
10 to 30VDC
※1 (During armed)
※2 (During beam alignment)
Transmitter Max : 5.2mA ※1
      Max : 9.4mA ※2
Receiver Max : 3.1mA ※1
    Max : 10.7mA ※2
Alarm output
Dry contact relay output form N.C/N.O swithable
Contact action : Interruption time (Min.2sec.)
Contact capacity : 30V (AC/DC) 0.25A (resistive load) Protective resistor
Environmental output
Dry contact relay output form N.C/N.O swithable
Action : Activated when weather condition gets worse
Contact capacity : 30V (AC/DC) 0.25A (resistive load) Protective resistor
Tamper output
Dry contact relay (N.C.)
Action : Activated when cover is detached
Contact capacity : 30V (AC/DC) 0.1A (resistive load)
Protective resistor
Alarm LED
Red LED (Receiver) ON : when an alarm is initiated
Attenuation LED
Red LED (Receiver) ON : when beam is attenuated
Ambient temperature range
–31°F to+151°F (–35°C to+66°C)
Beam adjustment
Horizontal: ±90°, Vertical: ± 20°
Functions
Modulated beam frequency selection,Tone indicator, Environmental module, Beam power selection,Transmitting power adjutment, Alarm output selection, Environmental output selection, Monitor jack,Tamper Response time adjustment, Upper/Lower beam switch Wireless checker
Mounting positions
Outdoor, Indoor
IP rating
65
Wiring
Terminals
Weight
Transmitter : 52.5oz (1500g) Receiver : 54.3oz (1550g)
Appearance
PC resin (wine red)