Flame Sensor
BATTERY OPERATED FLAME SENSOR TX-124R
HIGH SENSITIVITY FOR OUTDOOR USE
OUTDOOR FLAME SENSOR FOR WIRELESS SYSTEM
WIRES ARE NO MORE NECESSARY. YOU CAN CUT SUBSTANTIAL COST FOR INSTALLATION.
HI SENSITIVE FLAME SENSOR WITH LOW CURRENT DRAW PLAYS CRUCIAL ROLE FOR WIRELESS FIRE-WATCHING SYSTEMS.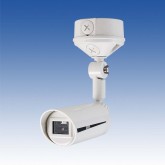 Data Download
Feature
GENERAL DESCRIPTION
TX-124R detects ultraviolet rays contained in flames and activates an external output. It is compatible with most of major wireless transmitters powered by DC3V battery. The weather proof construction of the housing allows for use outdoors.
VARIOUS SENSITIVITY LEVELS SELECTABLE
TX-124R has 2 sensitivity setting (H or L) and 4 detection timer (1, 6, 15 or 30 sec). A combination of the two parameters provides 8 sensitivity levels which enables the sensor to fit with various environments and conditions.
HIGH SENSITIVITY
TX-124R detects a flame of 60cm(2'75") from 30m(66') away.
MAJOR FUNCTIONS
- Operation LED (can be disabled by DIP switch)
- Battery holder for 2 x CR-123A
- Area masking sheet
Specification
Detection system
Ultraviolet rays detection (Detected wave length: 185 to 260nm)
DETECTION AREA
Distance
33ft. (10 m) : (Gas Flame of Lighter in front of sensor: approx. : 2.75" (7cm))
100ft. (30 m): (Flame of N-heptane on fire plate 15cm × 15cm: approx. : 23.62" (60cm)) *The flame size is rough.

Angle
Vertical: approx. 75° (upward: 15°, downward: approx. 60°) Horizontal: approx. 100°

Adjustment range
Vertical: downward 90° (horizontal-vertical) Horizontal: 180°
Sensitivity adjustment
Sensitivity
H (100%), L (50%) [selectable by switch]

Detection timer
1 sec, 6 sec, 15 sec, 30 sec [selectable by switch]
Supply voltage
(Red/Black wires) DC3V (CR-123A)
Current consumption
Standby: 55μA Max, Detection: 1mA Max
Detection output
(Blue/White wires)
Solid State Switch N.C 3VDC ・ 0.01A Max
Output when detecting Ultraviolet, Real time + delay time 2 sec
Operation LED
Detection: Red LED
Rael time + delay time 2 sec
Ambient temperature
-4°F to +122°F (-20°C to 50°C)
Installation
Indoor, Outdoor
Weight
approx. 17.9 oz (510g)
Appearance
• Sensor Part: PC resin (White)
• Back box: AES resin (White)
Optional
• Tapping Screw φ 6 × 30 (SUS): 4pcs
• Battery holder (2 x CR-123A): 1pc
• Area mask seal: 1pc
* The specifications are subject to change without notice.