Outdoor
TRIPLE MIRROR PASSIVE SENSOR PIR-T40NAM(W)
Vertical curtain protection
A unique triple mirror optical system with signal processing technology eliminates nuisance alarms from small animals (Vertical curtain protection up to 135' (40m) × 10.5' (3.2m) with anti-masking)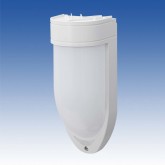 Data Download
Feature
TRIPLE MIRROR OPTICAL SYSTEM
The unique combination of triple mirrors and three twin pyros enable 4 selectable operation modes including low position, high position, middle and high density; from a mounting height of 6.6' (2m) to 20' (6m).
OPTIMISED DETECTION AREA
The triple mirror optical system features a geared mirror array allowing detection patterns to be dynamically optimised for maximum performance depending on the chosen mounting height and operation mode.
PET IMMUNITY
Independently controlled pyro devices in each optical unit use intelligent signal processing to eliminate nuisance alarms from small animals.
PRECISE AREA ADJUSTMENT
Precise detection area adjustment is made possible by projecting coloured LED's onto the surface of each mirror -visible only from inside the detection zone during the alignment process allowing sensitive zones to be fine-tuned to individual site requirements as desired. Unnecessary areas can be cancelled using the supplied area-masking sheet.
DESIGN CONSCIOUS
The PIR-T40NAM's unassuming design allows it to blend discreetly into any industrial, commercial or domestic environment, and the internally adjustable optic system helps to conceal the detection area and direction for more secure protection.
OTHER FUNCTIONS
Enhanced features including creep zone detection, near area cancellation, dual outputs, lightning surge protection and anti-masking make the PIR-T40NAM a key addition to the TAKEX family of high performance intrusion detection sensors.
Specification
Model
Triple mirror passive sensor
Model number
PIR-T40NAM (W)
Detection system
Passive infrared
Detection area
Vertical curtain protection
Detection distance : Max 150' (45m), 46 rays (23 pairs)
Power supply
9 to 28V DC (non-polarity)
Current consumption
Max. 50mA
Alarm output
■Contact method :
  Dry semi-conductor contact, N.C./N.O. selectable
■Contact operation :
  One-shot operation when detecting intrusion
   Continuous output in the event of alignment position error
  Continuous output in the event of power voltage error
■Contact rating : 24V (AC/DC) 0.25A (resistive load)
  (built-in contact protective resistor 3.3Ω)
External output
■Contact method :
 Dry semi-conductor contact N.O.
■Contact operation :
 One-shot operation/Off delay operation selectable when detecting  intrusion
■Contact rating :
 24V (AC/DC) 0.25A (resistive load)
 (built-in contact protective resistor 3.3Ω)
Tamper output
■Contact method : Dry mechanical contact, N.C.
■Contact operation : Continuous output
■Contact rating : 24V (AC/DC) 0.1A (resistive load)
            (built-in contact protective resistor 3.3Ω)
Anti-masking output
■Contact method : Dry semi-conductor contact N.C.
■Contact operation : Continuosly output when an object is placed in front of the lens (until nomal recovery)
■Contact rating : 24V (AC/DC) 0.25A (resistive load)
            (built-in contact protective resistor 3.3Ω)
Alarm LED
■Red LED :
 Blinks* during warm up
 Lights up* when detecting intrusion
 Continuously blinks in the event of cover monitor error
 Continuously lit in the event of alignment position error
 Continuously blinks in the event of self diagnosis error
 Continuously lit in the event of power voltage error
 Continuously blinks in the event of Anti-masking error
 (* ON/OFF selectable using the mode selector)
Memory LED
■Red LED :
 Blinks for 3 minutes during memory display, Auto reset operation either
 of continuous lighting for 47 minutes or blinking for 50 minutes selectable
 (Blinks to lights / blinks, ON/OFF selectable using the mode selector)
Functions
Sensitivity selection
Operation mode selection
Alarm memory LED
Self diagnosis
Low voltage monitoring
Temperature compensation
Front & back tamper
LED area checker
Environmental adjustment
Creep zone detection
Walk test mode
Near area cancellation
Anti-masking
Mounting height
6.6' to 20' (2.0 to 6.0m) (varies depending on the operation mode)

■Low position mode : 6.6' to 8.3' (2.0 to 2.5m)
                (Maximum detection distance:135' (40m))
■Middel position mode : 8.3' to 11.5' (2.5 to 3.5m)
                (Maximum detection distance:115' (35m))
■High position mode : 11.5' to 13' (3.5 to 4.0m)
                (Maximum detection distance:100' (30m))
■High density mode : 6.6' to 20' (2.0 to 6.0m)
                (Maximum detection distance:150' (45m))
Area angle adjustment range
Horizontal direction : ±90° (in 5° steps)
Vertical direction : 17° (no stage adjustment)
Ambient temperature range
-25 to +55°C (no condensation and freezing)
Mounting position
Indoor / outdoor wall surface
* Can be mounted on poles and ceilings (or under eaves) using optional accessories
IP rating
IP55
Connections
Terminals (M2.6 self up terminal)
Weight
Approx. 600g
Appearance
Body : Resin (white), Window : Resin (white)